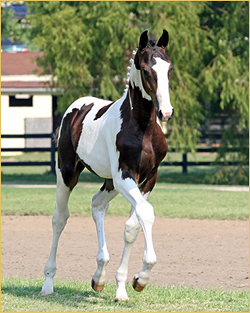 Samuri

Samuri is not currently for sale. Our first foal of 2006 was a striking Sempatico colt out of a MMB Holsteiner mare. This colt was born with so much strength that he was up within almost 15 minutes unaided. He is extremely straight, very uphill, and has an extremely loving personality. His sire, Sempatico, was the Bundeschampionat National Champion ZfDP as a foal. His sire is the Holsteiner stallion Sandro, who is a top producer of 36 approved sons, over 300 approved mares, and 27 states premium mares.
His dam, Imago, is an Elite Preferent rated KWPN mare by Samber, the world's most influential and successful pinto warmblood in history. This colt's dam is a MMB Holsteiner by Riverman out of Cazandra, MMP Oldenburg by Cabaret. His grandsire, Riverman, was the 2003 leading producer in the US for offspring winning at the USDF/Cosequin Breeders Champion Finals.

In the US, Riverman has produced over 64% premium offspring in the OLDNA registry and many premium and premium select mares with the AHHA. His great grandsire, Cabaret (d. Hol), has earned an outstanding reputation for producing honest, dependable, and extraordinarily intelligent offspring. Successful in all disciplines, Cabaret has an unending work ethic and an untouchable character, which he readily passes on. This wonderful colt, with such striking physical characteristics, should be an outstanding athlete in any chosen discipline. Read More...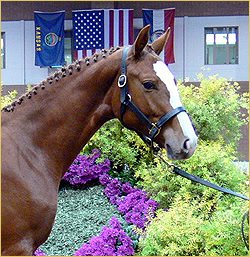 Cowboy
Cowboy is currently not for sale. We are excited to welcome Cowboy as he has been a much anticipated and long awaited foal for our foundation mare Luck of the Irish (Hol). Cowboy comes to us as Irish's final foal. Cowboy is by Cabaret (d. Hol) out of Luck of the Irish (Hol) by Calme (Hol). He is a full brother to Cajin and we have high expectations for his future endeavors just as we did for his brother. Cowboy's sire, Cabaret, was the AHHA foundation stallion in the USA. A son of the infamous Cor de la Bryere, with lineage to Landgraf I and Consul, Cabaret carried an exceptional nature and extraordinary athleticism in all his endeavors. Honest, dependable, and intelligent, Cabaret's work ethic was unmatchable. His character and keen attitude toward learning can been seen in all of his offspring in all disciplines. A full brother to Corlandus (European champion and 1988 Olympics Silver Medalist), Cabaret carried his brothers ability for piaffe and passage, as well as his sire's, Cor de la Bryere, and damsire's, Landgraf, jumping abilities.


Thus, Cabaret himself was a top competitor in Grand Prix Dressage, Advanced 3-Day Eventing, and Grand Prix Jumping, something not many stallions can boast. Cowboy is branded Holsteiner with a fantastic score of 8/8 and a premium rating. With his exceptional disposition, natural uphill build, lovely movement and incredible markings, he will make an outstanding stallion prospect. Cowboy recently won the AHHA yearling Championship and was 4th overall in the USDF Midwest Breeders Series Championships. Cowboy closed out his competition year by taking the Sporthorse Reserve Championship at the Kansas City American Royal competition in November. 2008 UPDATE: Cowboy attended his first USDF Breeders Series Show and won the Championship both days, one day with the incredible score from 'S' judge Arlene Rigdon of 83.5%. Read More...